This article is on the Peacekeepers character Copperhead, the Positive Dimension's version of Melody Hardcastle. For the Negative Dimension's version, see Black Mamba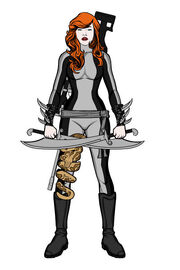 Meldody was born on 13th February 1984 in Veteres Londinnium. She is five years younger than her brother, Ivan Hardcastle. Their Parents were killed by Nekros, and when he was burning down the house saw her in her cradle. His rule of not killing children forced him to save her. He didn't see Ivan hiding in a wardrobe. Melody was trained by Nekros to be an assassin and was given the codename Copperhead. She learned to fight with swords, guns, her fists, how to interrogate a target, how to sneak through a security matrix. Her proficiency for killing soon attracted the attention of her brother, who by this point was the sociopathic vigilante whom criminals had come to refer to as The Eliminator
She recieved a message with a target and set out to find her victim. When she arrived however, the Eliminator was waiting for her. In the ensuing fight, Ivan lost his mask and was recognised by his sister from the picture she was given by Nekros. The Eliminator refused to accept this, and Copperhead was forced to run to the Pacekeepers for sanctuary. With the Elimator on her tail, she joined and they helped to arrest him. The Eliminator only accepted her as kin when Nekros sent another assassin to kill her. He and Copperhead defeated him and the Eliminator killed him.
Character
Edit
Copperhead is very serious and business-like, to the point of almost having a one track mind. She takes her job very seriously, earning her much praise from Nekros and the envy of Ripper. Copperhead is also a loner, and prefers to work by herself. She joined the Peacekeepers out of desperation when her brother, the Eliminator, chose her as his next target. Copperhead is also a talented Herpetologist who is rarely seen without her pet snake, Dilitrio.
Copperhead has no powers, but is at the peak of physical conditioning. She is a lot stronger and faster than most Non-Supers. Copperhead is a highly skilled assassin who wields twin scimitars and a sniper rifle. She also has a pair of bladed vambraces. Copperhead is rarely seen without her pet, Dilitrio, a north virginian Copperhead. Copperhead also employs venom or poisons into her assassinations, and is a master acrobat.
Statistics
Edit
Gender: Female
Real Name: Melody Hardcastle, Anna Mavro
Height: 5'9
Marital Status: Single
Age: 28
Birthday: 13th February 1984
Ad blocker interference detected!
Wikia is a free-to-use site that makes money from advertising. We have a modified experience for viewers using ad blockers

Wikia is not accessible if you've made further modifications. Remove the custom ad blocker rule(s) and the page will load as expected.